HOME
In their highest boughs, the world rustles, their roots rest in infinity; but they do not lose themselves there, they struggle with all the force of their lives for one thing only: to fulfill themselves according to their own laws, to build up their own form, to represent themselves. Nothing is holier, nothing is more exemplary than a beautiful, strong tree.
- Hermann Hesse; book 'Wandering'; poet, novelist and painter.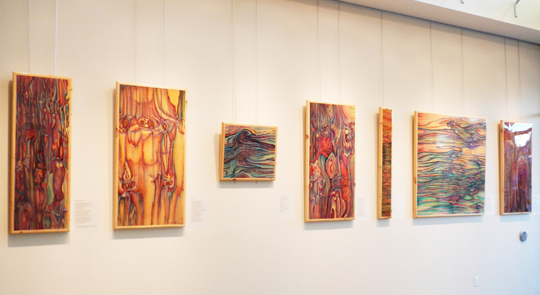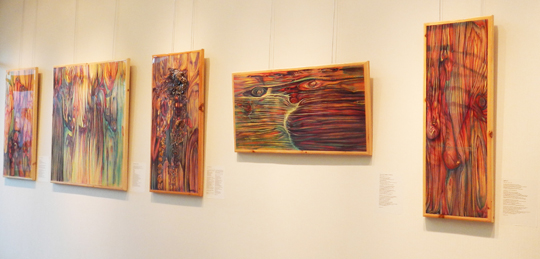 Exhibition at Collingwood Library
These times of science and technology, of mediated entertainment and relationships, of 'I see in order to believe'. I am drawn to the ways of my ancestors of listening to the way Mother Earth moves and speaks to us saying; 'I believe in order to see'. Through her creatures, through her life creation, subjective interpretive lessons help us grow and find our way, if we listen and watch. Inside the tree, plied and planked for external use, I look deeper into her life to find meaning for the internal growth of mine.
When a tree is cut down and reveals its naked death-wound to the sun, one can read its whole history in the luminous, inscribed disk of its trunk: in the rings of its years, its scars, all the struggle, all the suffering, all the sickness, all the happiness and prosperity stand truly written, the narrow years and the luxurious years, the attacks withstood, the storms endured.
I find phantasmagorical language spun from nature's spool of life, like liquid longings, universally comprehensible, that meander beyond its given design, into pendulous, biomorphic shapes. I find a balance between the naturally existing patterns and my mind's eye, a transcendental sensitivity to the fine ribbons of line wavering between chance and intention, into the changing drama of symbols. Like a layered dream translated into the awoken, it draws me, seductive like a siren's song to remember how to intuit, how to instinctively know and see before I paint it, to spontaneously respond to changing bleed of spreading colours into the wood grain and know why. I am in the forest alone connected to the earth's heartbeat, with these stories from the land, stories from the earth. I am wandering a path, part subconscious, part spontaneous, part spiritual, part instinctual.
Trees are sanctuaries. Whoever knows how to speak to them, whoever knows how to listen to them, can learn the truth. They do not preach learning and precepts, they preach, undeterred by particulars, the ancient law of life
I sought out the tree quite by accident in 1996. Just looking for something more meaningful, but I had no idea a piece of plywood in the basement would become a sixteen year journey of 'discovery', learning that I really don't know. Each piece of wood could not just end up in ambiguity as pretty pictures. A life had to mean something and that's where the full circle of writing would have its voice. As a child and teen seeing imagery in wood furniture, had me day dreaming and reseeding: revisiting that same two birds meeting or that old man with long white beard and hair haunting me in wood furniture in my bedroom to contemplate every morning, every night before bed, has me still remembering those images of mystery to retell.
Tired of planning out the perfect painting that ended where it started; in my mind of expectation, limited from the start to what I purported it to be. Or another fruit scape, landscape well rendered but leaving me longing for something bigger, something larger then life to connect to. One night, I prayed as I have oft to do, ever since my grandmother taught me how, I prayed that God would give me a work all my own.
A tree says: A kernel is hidden in me, a spark, a thought, I am life from eternal life. The attempt and the risk that the eternal mother took with me is unique, unique the form and veins of my skin, unique the smallest play of leaves in my branches and the smallest scar on my bark. I was made to form and reveal the eternal in my smallest special detail
So, as I was falling into the place of sleep between nether and cover, several works of art, I had never seen before, flashed behind my eyes. I remember they were beautiful organic swirling shapes in a multitude of colours. I felt duped, like it was some sort of cheap trick to a heart so sincere, to fool me, tease me as I felt that they were not in me to do and didn't know how to get there. I was partly right as the other part to that template, the actual design to my painting is its life, inside its bark. I believe those dreams were my answer to come two years later when I found this piece of Pine board in the basement. There she was inside swirling around, a wild woman, knots for nipples, hair flying, hips widening in a 'W', calling to be. I painted her into being by trusting myself, and what the tree gave me. She would be 'Tree Spirit' and I finally answered that mystery calling so long ago in the two birds meeting on my headboard and the long bearded white haired man in my dresser drawers. They were just teasers, something to think about before bed and when I awoke, laying there contemplating.
A tree says: My strength is trust. I know nothing about my fathers, I know nothing about the thousand children that every year spring out of me. I live out the secret of my seed to the very end, and I care for nothing else. I trust that God is in me. I trust that my labor is holy. Out of this trust I live.
Spiritual beliefs; God, Creator, Christ, Midewiwin, Earth Spirts. I began with Christ. My grandmother taught me how to pray. She had no religion. She was ahead of her time. She was spiritual or a spiritualist. My earliest memories were of her utter bliss out in the country. She hated the city. She was born in England and arrived in Canada in her 7th year. Her mother short not even 5 foot tall. Her husband seemed big beside her, white hair and handsome. She scowling like granny from the Clampets. Her black hair in a page boy, she looked funny and mean, but she raised my grandmother on a farm in Winnipeg with 6 other siblings.
My grandmother taught me spiritual ways, that the stars were our ancestors watching over us. She taught me the spiritual side, to never killing life in an insect, loving the earth, the country and hid the truth of us, for protection. A truth of my/our heritage that my English grandmother and Native grandfather kept hidden to protect their second born from being taken, as their first born was. Children were adopted to hide in white families, to not be forcefully taken away into Residential schools, to not be exposed to the inside scars of racism. So when they couldn't get their son back, they hid the rest of us inside the safety of blending and mourned him every day.
When we are stricken and cannot bear our lives any longer, then a tree has something to say to us: Be still! Be still! Look at me! Life is not easy, life is not difficult. Those are childish thoughts...Home is neither here nor there. Home is within you, or home is nowhere at all.
When their first born, my uncle came to find us, he also brought our Indigenous ancestry. This inspired finding, what my grandmother only hinted at in my youth, to painting on the earth's rooted core, a connection of family, life, history and a story from growth of yearly rings inside the tree. With rambling and morphing lines, I was falling into its world, this tree/life/being called the Standing People by the First Peoples. My wood wondering/wandering finds imagery meaning voiced in Indigenous symbols, connected to the Medicine Wheel. I connect to the four directions of this ancestor's message through its juxtaposition of imagery. I marry the past to the present to find continuance through a universal mind.
A longing to wander tears my heart when I hear trees rustling in the wind at evening. If one listens to them silently for a long time, this longing reveals its kernel, its meaning. It is not so much a matter of escaping from one's suffering, though it may seem to be so. It is a longing for home, for a memory of the mother, for new metaphors for life. It leads home. Every path leads homeward, every step is birth, every step is death, every grave is mother.
'I believe in order to see' and began painting what I did not know; images created from the natural world. I believe in the Universe, Christ and the Midewiwin teachings. My earliest memory was of prayer. My grandmother taught me spiritual ways. How to be quiet and how to be alone. My mother never knew of her ancestry even having met my grandfather's family and lived hiding with friends and relatives for most of her growing years. She did not have the benefit of her mother's and father's spiritual upbringing, but learned that seeing in order to believe was safer. I was raised by my grandmother as my mother worked. My grandmother learned of these spiritual ways from my grandfather, who died when I was two years old. But he left a legacy of words with my mother and grandmother. He said: 'She is going to be something'. He believed in me and his words transcended his death.
Families connect over time and over death. Words are powerful. And a great mixture of identity had me searching and learning from knots and grains, a traditional way of seeking inner growth from mother earth and transforming these into knowledge. Learning from elders, books and Internet, pieces along the way, a culture stolen and broken had me finding pieces along the way like the prophecy of the 7th Fire: 'They will retrace their steps to find the treasures that had been left by the trail'. My naive journey inside trees found that I was the only one who worked in this way, but I was following a tradition of my ancestor's ways, of finding subjective meaning to one's life, through listening and watching mother earth's movements.
This connection is based on the subconscious and continues to grow in knowledge as I do. I find my understanding of the work transforms over time as I do and I learn new things because of my connection to it. It is continuous contiguous subconscious connection of journeys into image making, related to life that grew. It continues to transform in my mind growing its meaning over time and learning from what I'm doing means that the energy created around each painting doesn't end after framing it. I've rewritten poems, intuiting the meaning to the work as my understanding grows, because the truth is that I am a living, pulsing being that is never static, in constant motion of understanding the world from my home perspective. I've put myself into my work, which is another living entity. My work is like a journal; each series has meaning, each painting a story. It all works together to form a life that has become constant change and flux over the years. As I learn from this medium, my understanding of it changes. It doesn't stay the same. It changes as I do, as the seasons do. It begins from the end of its life so it is never ending connected to me, like a circle and when others continue their understandings into the work, it changes again.
The galleries in this website are organized into the journal that my work is. Each series that I have been writing over the years beginning in 1996: Sacred Way till present, is my story of learning through relations and experiences and culture. That painting intuitively, listening to the tree's life-time of imagery, gives me visions to understand later as knowledge in the way the universe works; in its own time in its own flow. Every series was different as each species of wood was different from each other. Each series and each piece has been a journey into the unknown quantity of falling, and not knowing where I'll land. It's taught me to trust myself, to find myself in instinct, spirit, subconscious and the joy of intuiting pieces of the rooted earth's creation.
So the tree rustles in the evening, when we stand uneasy before our own childish thoughts: Trees have long thoughts, long-breathing and restful, just as they have longer lives than ours. They are wiser than we are, as long as we do not listen to them. But when we have learned how to listen to trees, then the brevity and the quickness and the childlike hastiness of our thoughts achieve an incomparable joy. Whoever has learned how to listen to trees no longer wants to be a tree. He wants to be nothing except what he is. That is home. That is happiness. Herman Hess, - poet, painter and novelist from his book 'Wondering'